The Dos and Don'ts of the Showmanship Suit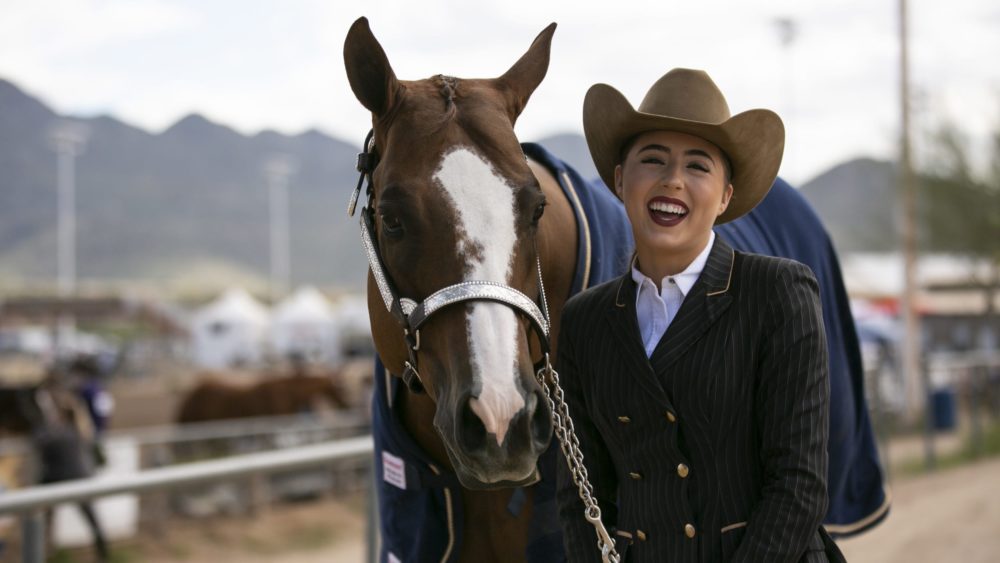 ---
In recent years, the "less is more" trend in horse show fashion has been on a steady rise. Fitted button-down shirts have become increasingly popular in events such as horsemanship and western pleasure. The classic look of a black hunt coat and light-colored undershirt never goes out of style for the hunt seat events. And in the showmanship, many exhibitors are starting to wear a fitted suit instead of a blinged-out jacket.
Suits are a timeless, simplistic, and often times even a more cost-effective alternative to their sparkly counterparts. Despite their deceivingly simple exterior appearance, there are a multitude of aspects that go into designing or buying the perfect showmanship suit.
GoHorseShow had the opportunity to sit down with a variety of industry members, including judge Jamie Dowdy, exhibitor Jojo Roberson, and designers Kevin Garcia and Alicia Enochs, to discuss the "dos and don'ts" of showmanship suits.
DO coordinate with your horse
Showmanship, at its very core, is all about exhibiting the incredible teamwork between horse and handler. The right outfit can put the finishing touch on the image of a flawless partnership that exhibitors strive to achieve in this class.
Alicia Enochs of Custom Collars Boutique, recommends considering your horse's color when choosing a piece of fabric and details for your suit. "Matching your trim to your horse's color is a beautiful way to make the two of you look like a team," she told us.
AQHA judge Jamie Dowdy echoed the same sentiments, saying that, "a sorrel horse with the navy, or a bay horse with a black suit, I think both of those match and balance really well. Especially when you've got your horse's black legs, and your black legs, they're match-step, and you guys are jiving, I think that looks really cool."
Coordinating the colors of your suit to compliment your horse is a fun and creative way to emphasize the appearance of the two of you as a team.
Similarly, exhibitor Jojo Roberson (pictured left) explained that "part of the reason that I like the trend is because my horse is originally a reiner and ranch rider, so I feel like the suit is more fitting for his style than a sparkly jacket would be."
The simplicity that a suit offers can be a better match for a horse with a particular look – whether that horse is flashy in its own right, or if the horse, like Jojo's Greedy Ghost, has a more 'ranchy' appearance.
DON'T forget to tailor the suit to fit YOU
While matching your horse is certainly a large part of creating 'the look' for showmanship, so is tailoring the outfit to fit your personality and your style. Kevin Garcia, of Kevin Garcia Originais, told us, "People always want to match their horse. However, the horse is not wearing the outfit…you are. You need to choose a color based on what looks good on you before you can consider what it looks like with the horse."
He continued, emphasizing the importance of making sure that your showmanship suit suits you. "Just because a style looks good on someone else does not necessarily mean it's going to look good on you, so make sure you design for your body. You don't want to look uncomfortable, or feel uncomfortable, because that shows," he said.
Confidence is vital, and having a suit that fits your body correctly and that you feel comfortable wearing can completely change your image in the showmanship arena.
Exhibitors can also customize a suit to show off a certain amount of individuality in their style. Alicia Enochs explained that exhibitors can, "think outside the box of traditional dark suit colors that you see off-the-rack," when designing a showmanship suit. "From blue to eggplant to olive – find a color that enhances your skin tone and compliments your horse," she said. Enochs also added that many of her customers, "add a silky contrasting fabric to the whole collar and lapel of their suits to brighten and frame their face." Small accentual details such as these can help turn a suit into a unique, one-of-a-kind outfit for any exhibitor.
DO think about what the judge will see
Often, when we are shopping for new show clothing, we fall in love with the outfit up close. We stand in front of the mirror and admire the little details of our new jacket, button-down, or suit. However, it is vital to take into account what the outfit will look like from a judge's perspective.
Jamie Dowdy told us, "when you go and get your suit fitted or when you are trying on a suit somewhere like Dillard's, make sure you look at it from the side. The majority of the time that we see you in our perception is from an angle or the side. Just make sure that it creates a nice, clean picture."
Jojo Roberson explained that one of the most important aspects to take into consideration when wearing a suit in the showmanship is the length of your pants. "Make sure that your pants are long enough. I know that is a huge one in my family. My sister and I both grew out of our pants super quick, so we always had short pants in showmanship, and the judges weren't happy about that," she said.
Regardless of whether you are wearing a suit or a blinged-out jacket, having the right length pants is vital to completing the perfect look for showmanship.
DON'T overlook an off-the-rack option
Having a suit custom made is not always an option for every exhibitor. Buying an off-the-rack suit and having it tailored to fit perfectly can create a look that is just as clean, classic, and unique as a suit that was specifically designed for you.
"We think that off-the-rack is a great option," Alicia Enochs told us, "a department store can be a great place to find a suit at a good price, but make sure that the blazer is not cut too short and that the pants are a tailored boot-cut and appropriate for the showmanship. A neat and professional overall appearance is so important for showmanship, and simply taking the time to have your off-the-rack suit altered by a local tailor will take your purchase to the next level."
Kevin Garcia agreed, saying that, "you can buy a suit off-the-rack, you just have to make sure that it is fitted well to you. The last thing you want to do is look like you just came from work, and the best way to avoid this is through tailoring."
There is plenty of variety to be found on the racks of clothing stores when it comes to suits. Finding one that speaks to you, looks professional, and taking the time to have it altered to fit correctly for showmanship is a fantastic option for finding a suit to wear on a budget. 
Finding the right suit creates a timeless, professional, and unique look for any exhibitor in the showmanship classes. There are countless ways that you can express yourself through these beautiful outfits, whether you are looking to have one custom-made or you are shopping at a department store. Creating the perfect look will take your appearance as you set up at the first cone to the next level.
Portions of this article originally published May 2020.
---
About the Author: Kassidy Lammers is a sophomore at the University of Dayton majoring in history and 

communication. She has shown Quarter Horses for ten years, and currently maintains and shows her gelding, KM Best Man, in the all-around events on the AQHA Circuit.