Where Are They Now?: Crundwell Sale Horses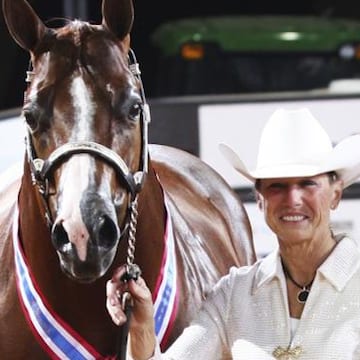 ---
Rita Crundwell was sentenced one year ago this week and GoHorseShow was curious what has happened to several of the high profile horses that were sold in the online and live auctions that were held in September of 2012. Many of the sale horses have gone on to win more Congress and World Championships while some, unfortunately, are no longer with us. Find out here what many of the horses have been up to since the sale.
Stallions

Good I Will Be–At the September 2012 live sale, Willy was the highest selling horse when Sandra Morgan from Canada purchased him for $775,000. Within the next two months, he tied to win the Senior Western Riding at the Congress and was third at the AQHA World Show in the same event with Leonard Berryhill. Unfortunately, due to complications from kidney stone surgery, he was euthanized in November of 2013. "The shocking news of the death of Good I Will Be was about as close to losing a family member as it gets," says trainer Leonard Berryhill. "We were blessed to have been a part of his legacy and my sympathy goes out to those who loved him, Sandra Morgan, Stephen Stephens, and, of course, Rita Crundwell and Jim McKillips and the many others who were a part of Team Willy."
Iron Enterprise–Iron Enterprise was purchased at the sale for $40,000 by Kevin and Amy Smith and has settled in to his new life at Capall Creek Farm in Falmouth, Maine. "Money" has sired over 60 World and Congress Champions and Reserves including the 2013 World Show Superhorse, Unforgettable. In the last two years, his babies have won five World Championships, four Reserve World Championships, two Congress Championship, three NSBA World Championships, and one NSBA Reserve Championship. In 2013, he sired three out of the top four at the 2013 AQHA World Show in the Senior Hunter Under Saddle. Unforgettable was the Reserve World Champion, Moneys Moxie was third, and Naturally Graceful was fourth–this has not been accomplished since 2005 with Dont Skip Charlie. "By the time we purchased Money, his 2012 breeding year was over, so this year will be the first foal crop since we have owned him," Kevin Smith states. "We are expecting six babies of our own this spring and we are very excited about the two already on the ground–one of which is a beautiful filly out of NSBA World Champion and two-time Reserve Congress Champion, Shining Detail. We are thrilled about all the great mares that are already booked to him for 2014 as we are expecting nearly a full book."
Un Forgettable–The grey stallion was purchased by Laura Grotenhuis of Illinois for $75,000 and then went on to become the 2013 AQHA Superhorse with outstanding performances in the pleasure driving, hunter under saddle, and over fence classes. Un Forgettable won a world championship in senior pleasure driving, reserve championship in senior hunter under saddle, placed fifth in senior hunter hack, sixth in performance halter stallions and 12th in senior working hunter. He is currently standing at Pilot Knob Ranch under the supervision of Mike Hay. "He has 14 foals expected for 2014. To say he has huge potential as a sire maybe a understatement," Hay states. "With one of the best show records achieved in many years as a young stallion, his conformation and breeding assures mare owners they will have a valuable, sought after foal."
Mr Touchdown Kid-– The 1999 sorrel stallion was bought by Erin Matte of Claremont, Ontario, Canada for $36,000. "It's been a very exciting time having MTK as part of my stallion line up," Matte told GoHorseShow. "However, more importantly has been the treasure of owning such an iconic stallion." He was raised by Susan Johnston of Texas and later purchased by the late great horseman Billy Rex Lawrence. He was later sold to Rita through Chip Knost. At 15 years of age, he still remains on the AQHA leading sires list and continues to sire Congress and World Champions such as Its Game Day, Boys N Toys, and Kid Jewels. MTK is also a notable sire within the APHA industry with many protege winning World Titles. MTK stands at Rick Leek Quarter Horses in Michigan.
Execute–The 2004 sorrel stallion by Crundwell's stallion, Mr Touchdown Kid and out of Forever Coolest was bought by Tom Scheckel of Bellevue, Iowa for $245,000. Execute was the 2005 Amateur World Champion Yearling Stallion, 2006 Reserve Amateur World Champion Two Year-Old Stallion, 2009 Reserve World Champion Performance Stallion, and 2010 Amateur and Open World Champion Performance Stallion. In 2010, he received his superior in the Dally Team Roping Heeling. According to Scheckel, he is the sire of nearly 50 World Champions (all associations combined). Scheckel told GoHorseShow that the first foal crop since he has owned Execute are just hitting the ground and that there has been a major demand to breed to him the past few years. For 2014, he is standing at Abraham Equine Clinic in Cedar Rapids, Iowa.
Invest In A Hot Star–This stallion was purchased by Leslie Lange for $57,000 to add to her stallion lineup. Unfortunately, the stallion was euthanized in September of 2013 due to an injury while being turned out. The 1999 chestnut stallion was by Blazing Hot and out of Sheza Big Spender who is by Starrific. He amassed over 500 points in the trail, western riding, western pleasure, horsemanship and halter. He also received his superiors in the western riding and western pleasure and AQHA Performance Championship; as well as multiple top 10 placings at the AQHA World Show. He was also a two-time high point pleasure champion.
Mares
Naturally Graceful–This pretty hunt seat mare was bought for $50,000 at the sale and the Fischer Family of Germany have owned her since October, 2012. At their first show together, Naturally Graceful and Leonie Fischer were Region 8 Champions in the Youth Hunter Under Saddle. In August, they showed at the AQHYA World Show and ended up as a finalist out of 114 entries. At their first Congress in 2013, they were Congress Champions in the Novice Youth Hunter Under Saddle. This year, the team is planning to qualify for their final Youth World. This duo is under guidance of Highpoint Performance Horses and will be shown by Deanna Searles in the major open Hunter Under Saddle events. "Gracie is not only super talented – she has a wonderful personality and I'm so happy with her!" says Leonie.
Moneys Moxie–This mare was purchased at the sale for $87,000 by Merry Sharp who then sold her to the Wilhelm Family. Amateur Lauren Wilhelm and Moxie were reserve at the NSBA World, top ten at Congress, and ninth at the AQHA World Show in the Amateur Hunter Under Saddle. Kim Reynolds also placed third in the Senior Hunter Under Saddle at the World Show with this talented mare. "We've done well; she's a great mare," says Lauren Wilhelm, who put a superior on her last year in four shows. "She's the quietest hunt seater I've ever had. I'll keep showing her this year in the Amateur Hunter Under Saddle and Amateur Performance Halter Mares."
Ms Mae Flash–The 2009 bay mare by RL Best of Sudden was bought at the sale for $112,000. While owned by Crundwell, the mare placed eighth at the 2011 Congress Master's with Amanda Jackson in the saddle. She is currently being shown by youth, Karlee Cassiday in the western pleasure, trail, horsemanship, and performance mares. "She is doing wonderful and has proven to be a star time and time again and she has such a good mindset to her," Cassiday states. "I am hoping to place in the top ten at Congress in western pleasure and trail." Last year, Christa Baldwin won the Michigan state championship in the Junior Western Pleasure and Karlee Cassiday won the 14-18 Youth Western Pleasure. Karlee was also Reserve Champion in their non pro slot class at their futurity. "She is doing fantastic!" says trainer, Christa Baldwin, who also just started showing her in the trail. "We love her and I can't take her anywhere and people comment on how beautiful or how nice she is. It is amazing but she has a following, which is fun. People know her wherever we go. And she is as sweet and kind as she is beautiful. I am honored to have her in my barn and get to train and show her."
Pick Me Please–In September of 2012, the iconic show mare turned successful broodmare was purchased by halter breeder and exhibitor Lea Ann Koch of Oswego, Illinois for $18,000. "She was certainly a one-of-a-kind mare," says Koch. "I knew when I bought her she had problems with her hind legs and arthritis. I had always admired her when she showed with Charlie Dobbs and Steve Landers. When she became part of the Rita sale, I decided I wanted to buy her and give her a good end to her life." In March of 2013, the all-time great halter mare passed away due to complications associated with arthritis. "In my opinion, she's the best halter mare of all time," says two of her former halter trainers, Charlie Dobbs and Russ Smith, who both showed her in her prime. "No one could beat her. She's a six-time World Champion and stood Open Grand Champion Mare at the Congress five times in a row."
Pizzazzy Lady and I Execute Class–Both halter mares were bought by Linda and Gary Gordon of Fossil Gate Farms located in Argyle, Texas. Pizzazzy Lady (pictured at top of story) was bought for $126,000 while I Execute Class (pictured left) was purchased for $226,000. According to Fossil Gate's breeding manager, Buddy Laney, five-time World Champion and World Champion Dam, Pizzazzy Lady is currently retired from the show pen and being bred to the Fossil Gate Stallions. I Execute Class was the high seller in the September 2012 online auction. The 2008 bay mare by Execute was the 2009 AQHA World Champion in Amateur and Open Yearling Mares, 2010 AQHA World Champion in the Amateur and Open Two-Year-Old Mares, and 2011 AQHA World Champion in the Amateur Three year-Old Mares and was Reserve in the Open. After Fossil Gate purchased the multiple World Champion mare, they showed her in 2013 and placed 10th in the aged mares and fifth in the AQHA Select World Show Amateur Aged Mares. The mare is now retired from showing and is being bred to the Fossil Gate stallions.
Geldings
IE Copy–The hunter under saddle gelding was purchased by Kathy Tobin for $101,000. Shortly after the purchase, IE Copy won the Senior Hunter Under Saddle at the 2012 All-American Quarter Horse Congress with Nancy Sue Ryan aboard, and he placed fifth at the AQHA World Show in the Senior Hunter Under Saddle with Deanna Searles in the irons. Unfortunately in August of 2013, he was euthanized due to a hoof injury. The 2005 bay gelding was by Crundwell's stallion, Iron Enterprise and out of Copy My Luck. With Crundwell, he was also the 2009 Select World Champion and high point Select Amateur Hunter Under Saddle Horse.
Willy Has Potential–This hunter under saddle gelding by the late Good I Will Be was purchased by Highpoint Performance Horses at the sale for $70,500. Willy Has Potential is currently owned by their client, Emily Schexnayder Miller of New Roads, Louisiana, who has recently offered him for sale. "I am selling Willy due to starting a family and want him to go to a good show career home for sure," Emily says. "He's so talented." In 2013, Willy was NSBA World Champions in the Junior Hunter Under Saddle, Novice Amateur Hunter Under Saddle, BCF 4-6 Yr Old Open Hunter Under Saddle and Non Pro Limited Hunter Under Saddle Maturity Champion. Willy was also Top 10 in the Junior Hunter Under Saddle at the World Show, Congress Champion Novice Amateur Hunter Under Saddle and Limited Non Pro Maturity, Reserve Congress Champion in the Junior Hunter Under Saddle, and Reserve Congress Champion Maturity Non Pro Hunter Under Saddle Stakes.
Did you buy a horse in the Crundwell online or live auction? If so, please use the comment section below or comment on the GoHorseShow.com Facebook page to share your story.